Welcome
Welcome to CARM, the Canadian Association of Railway Modellers, located in Canada but with members from many areas around the world. CARM is both for Canadians as well as those with interests in Canadian Railways or model railroading or both. Our membership in the organization is open to anyone that wishes to join.
Our members area has more content that is only available to members which includes an archive of images that have a Canadian Railway theme in a higher resolution than those available in other areas of this website. Also members have access to all of the newsletters ever printed by CARM as electronic downloads in PDF format.
Use the 2022 Membership Form
Have you changed...
your email?
your phone number?
your address?
If you have, it's time to update your membership information. It's easy to overlook updating this information but it will only take a couple of minutes to correct this. Simply fill out a membership form from our join page and note in the comment area that you are updating contact information. We will make the changes and reply to you when this has been done. Doing this with help ensure that you are receiving the latest news and information from CARM.
Chapter Choices
As a member of CARM you now have the ability to pick which chapters you would like to receive infromation from. Starting now a form has been added, that can be found in the menus to the left in the members area, to select these choices. Be sure to fill out this form so that you will get the latest news from that chapters that matter to you.
---
2020 Toronto CARM Convention
May 8 to 10, 2020
Postponed due to Covid-19
CARM has been working along with the organizing group from Toronto for the next convention and the following statement has been released.
Please be advised that the CARM Toronto Convention originally scheduled for May 8 – 10, 2020 has been postponed due to the risks associated with the outbreak of the Covid19 virus.

A revised date will be announced once it is clear that the convention can proceed without risk to delegates, organisers, clinicians, layout hosts and others involved in the successful execution of this event.

This issue of The Canadian as well as the prior issue carry articles describing some of the layouts which will be on display for delegates to the future convention. Keep these issues for future reference.

Please check with the convention website page, link below, of this website for details about future plans and financial arrangements for delegates who have already registered.

The organisers thank you for your forebearance.
The link to the 2020 Toronto convention is now available.
2020 Toronto Convention
---
General Members and Internet with Calendar Members are entitled to be mailed 1 calendar as part of their membership. Internet Only Membes (FREE Memberships) do not receive a calendar.
If you missed out pre-ordering your copy of the 2024 Calendar there will be a limited number of extra 2024 calendars available at a cost of $12 each in Canadian funds for those being mailed to a Canadian adress only. For any being mailed to an address outside of Canada the cost is $12 each in US funds. The cost includes regular surface mail. (Prices subject to change once the actual costs are finalized)
If you would like to order 1 or more calendars follow these instructions.
Contact the Membership Director with the number of calendars you would like to order along with your mailing address.
The Membeship Director will send you an invoice for the calendars allong with instructions on how to pay for your order and confirm that the number of calendars ordered are available.
Once payment is received the calendars will be mailed to you when printed.
Payments can only be made using PayPal or by cheque.
---
CARM Events
Each year there a number of CARM events that are run which are organized by various chapters. Meetings are held in various locations and are open to all CARM Members. Guests are also welcome at most events. Check out the Chapter page as well as the Events page for activities in your area.
---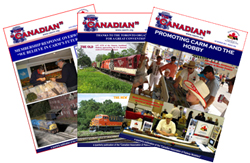 CARM Newsletter
CARM is proud to produce a newsletter, The Canadian, that has been published since the starting days with the first issue dated for January 2004. Currently the newsletter is published four times a year and is available as both a printed version and an electronic download in PDF format. An example of a newsletter can be found by clicking on the menu bar to the left. To obtain electronic downloads for all of the issues you can log into the members area, you must be a member to access this feature.