Welcome
Welcome to CARM, the Canadian Association of Railway Modellers, located in Canada but with members from many areas around the world. CARM is both for Canadians as well as those with interests in Canadian Railways or model railroading or both. Our membership in the organization is open to anyone that wishes to join.
Our members area has more content that is only available to members which includes an archive of images that have a Canadian Railway theme in a higher resolution than those available in other areas of this website. Also members have access to all of the newsletters ever printed by CARM as electronic downloads in PDF format.
Update your membership information
We have been transitioning to newer types of membership and while doing this we have noticed that some members have not renewed or in some cases information has become out-of-date. Please take a few minutes and update your membership information. Use the 2018 membership form for updates as well as renewing or joining. Response to your update may take a little more time as this the holiday season and time for all our volunteers is limited so please be patient. Also be sure to use the 2018 membership form.
Chapter Choices
As a member of CARM you now have the ability to pick which chapters you would like to receive infromation from. Starting now a form has been added, that can be found in the menus to the left in the members area, to select these choices. Be sure to fill out this form so that you will get the latest news from that chapters that matter to you.
---
CARM Super Meet -
Montreal, QC, August 5 & 6, 2017 (Completed)
Watch here for information pretaining to the 2018 event!
This event introduces a new format for CARM Conventions, Mini-Conventions, or Meets. We have seen the success of other events such as the Narrow Gauge Convention, and will be adopting that format. Each attendee is responsible for their own accommodation and transportation. We will provide assistance by identifying local hotels and their price options.
The Meet dates are: 5 & 6 August 2017. These dates were selected to take advantage of the long weekend in Ontario We are lining up a number of events including a Meet & Greet, a Railfan guide for Montreal, a visit to ExpoRail, private layouts to visit on the way to and from Montreal, and 7 club layouts in Montreal itself.
Each attendee will received a Tour Booklet and Pass, however, Montreal is a large city, and a GPS would be a real asset in getting around. The 7 club layouts in the Montreal area are: West Island Modular Railway Club, British Model Railway club of Montreal, Montreal Vermont & Essex, Chemin de fer Richelieu & St Laurent Railway, Montreal Live Steamers, Green Valley Short Line Railroad Club, and JAC Hobby (2 scales). In addition there are many model displays at the Exporail Railway Museum in addition to their prototype collection.
Among the Hobby Shops available for you to visit are: Hobby Junction, Udisco, Van Horne Hobbies, Hobby Vermont & Essex and JAC Hobbies. We are looking into Hotels which are close to the Dorval Train Station, the Airport and Ian MacCleod's home club the West Island Modular Railroad Club.
---
CARM Copetown Show
Each year in Copetown, Ontario, CARM supports the Copetown Train Show operated by the Bayview Modular Group.
"A Showcase of Canadian Railway Modelling" that includes manufacturers, layouts, displays and more. This next show will be on 2018. The show hours will be 10:00 am to 3:00 pm. For the date, time and detailed information check back our Current Events page.
---
CARM Events
Each year there a number of CARM events that are run which are organized by various chapters. Meetings are held in various locations and are open to all CARM Members. Guests are also welcome at most events. Check out the Chapter page as well as the Events page for activities in your area.
---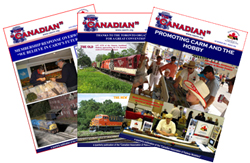 CARM Newsletter
CARM is proud to produce a newsletter, The Canadian, that has been published since the starting days with the first issue dated for January 2004. Currently the newsletter is published four times a year and is available as both a printed version and an electronic download in PDF format. An example of a newsletter can be found by clicking on the menu bar to the left. To obtain electronic downloads for all of the issues you can log into the members area, you must be a member to access this feature.