Welcome
Welcome to CARM, the Canadian Association of Railway Modellers, located in Canada but with members from many areas around the world. CARM is both for Canadians as well as those with interests in Canadian Railways or model railroading or both. Our membership in the organization is open to anyone that wishes to join.
Our members area has more content that is only available to members which includes an archive of images that have a Canadian Railway theme in a higher resolution than those available in other areas of this website. Also members have access to all of the newsletters ever printed by CARM as electronic downloads in PDF format.
---
CARM Mini Convention -
Postponed
CARM Chair Gerald Harper, in consultation with Ian Macleod who was organizing the Montreal Mini Convention, reviewed all of the circumstances surrounding the Mont- real Mini Convention including the high potential for a strike by Canada Post which would disrupt the Registration and Room Booking process. After discussion with a number of Executive Members the decision was made to postpone the Montreal Mini Convention until possibly the Spring of 2017. This delay will give us the opportunity to make sure that this worthwhile event is a success.
The Opening Doors Tour
Montreal, Quebec
Spring of 2017
---
NEW

CARM Copetown Meet

Hi everyone, click on the flyer below for a PDF version to print. This flyer outlines a CARM Meet to be held on the weekend of March 5th and 6th in conjunction with the Copetown Train Show. It is a little more expensive than our normal meets since there is a dinner involved. Due to the fact that we have committed to the Lions Club for the dinner I would appreciate it if you could give me a heads up if you are planning to attend. You can contact me at johnjohnston@sourcecable.net. I know someone will ask so here is the answer to the question: Can I just attend the Layout Tour? The answer: You are free to attend as much or as little of the Event as you choose, however, since our costs are fixed, the fee is the same. This is the first of a number of Events we are going to try and run this year so I hope you support it.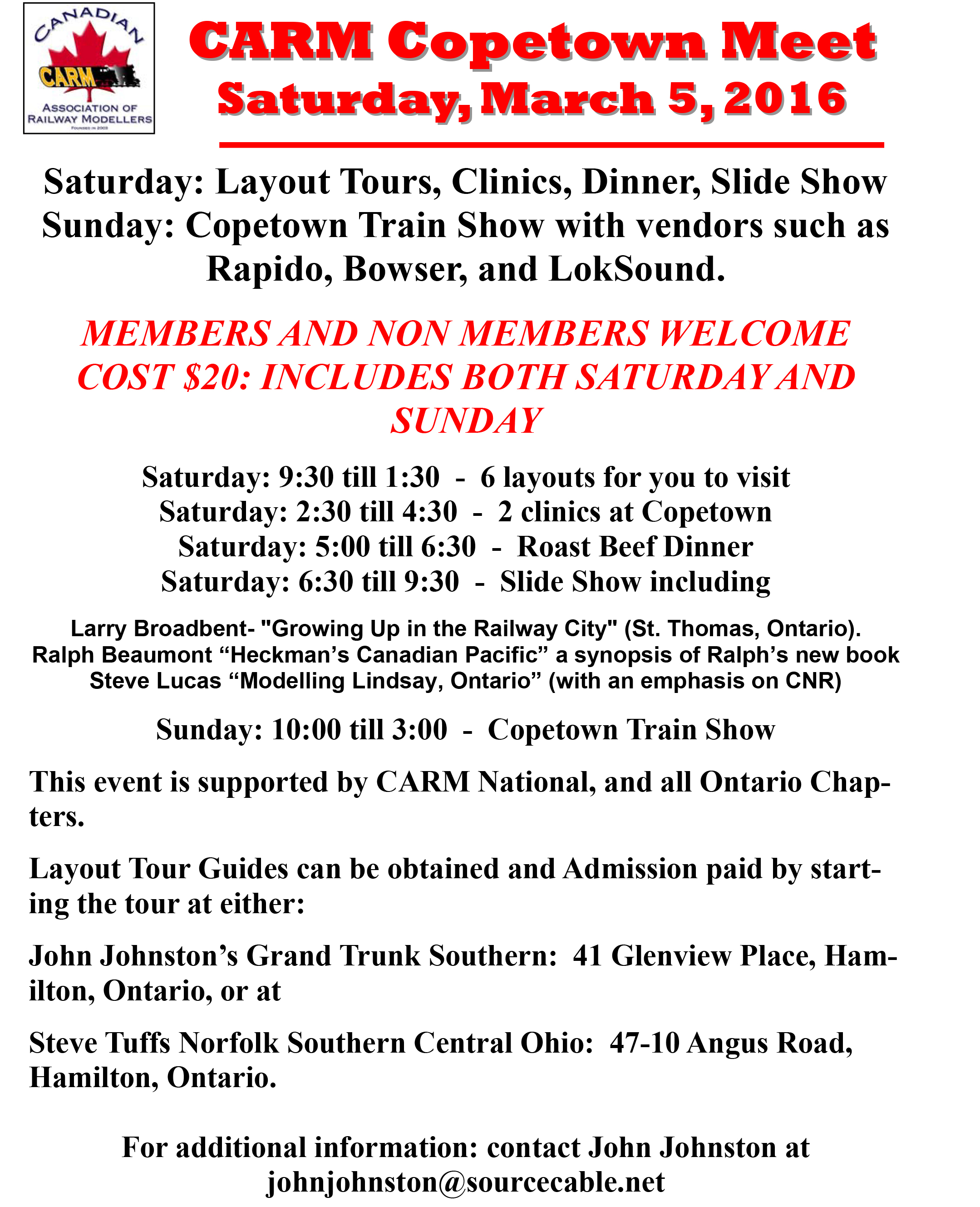 ---
CARM Copetown Show
Each year in Copetown, Ontario, CARM sponsors the Copetown Train Show.
"A Showcase of Canadian Railway Modelling" that includes manufacturers, layouts, displays and more. This next show will be in March 6th, 2016. For the date, time and detailed information check back here regularly.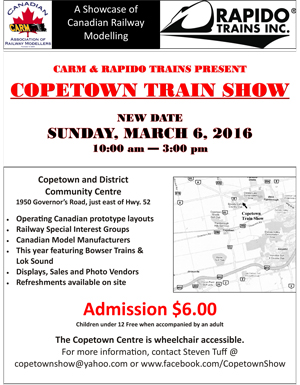 Download PDF Flyer
---
CARM Events
Each year there a number of CARM events that run organized by various chapters. Meetings are held in various locations and are open to all CARM Members. Guests are also welcome at most events. Check out the Chapter page as well as the Events page for activities in your area.
---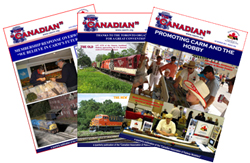 CARM Newsletter
CARM is proud to produce a newsletter, The Canadian, that has been published since the starting days with the first issue dated for January 2004. Currently the newsletter is published four times a year and is available as both a printed version and an electronic download in PDF format. An example of a newsletter can be found by clicking on the menu bar to the left. To obtain electronic downloads for all of the issues you can log into the members area, you must be a member to access this feature.
---
Next Event
LMRG's Monthly Public Viewing Night, January 2017
Tuesday January 3, 2017
69 Holborn Ave., London Ont. Canada

7:00 PM
to
9:30 PM


---
Feature Sponsor
Winona Garden Railway
www.wgrr.ca Website